Uncharted Collection First Impressions - Part 1: Drake's Fortune
NOTE: This is not a review! These are my first impressions from around 50% through the campaign of Uncharted: Drake's Fortune. A full review will follow soon.
Someone who claims to be a huge PlayStation fan saying that they haven't played Uncharted is a little taboo (tick and tick). That series, along with The Last Of Us, are some of the highest regarded games in the PlayStation family, and - especially with The Last Of Us - are regarded as industry leading by many gamers.
Not playing them is like saying "I chose PlayStation this generation because that's where my friends are". Of course, that isn't a bad thing - it just screams that you aren't ride-or-die Sony. And that's why the Uncharted Collection is so awesome. Having three of PS3's best games in one £45 package is sensational, and being able to join in a conversation about Uncharted and prove that you're a PlayStation fan is the cherry on the cake.
But why did these titles do so well the first time around? They demonstrate just how good games have become, and how the incredible blend of a compelling story, awesome characters, a beautiful setting can now, finally, rival any other entertainment property.
I think there's a simple reason for this: Naughty Dog. In 2015 they're widely regarded as one of the top developers out there - people who consistently hit the mark and deliver near-perfect games one after the other.
However, this is Uncharted 1; this is 2007 - so cast your mind back, and forget what's happened since. We're going old-school (ish).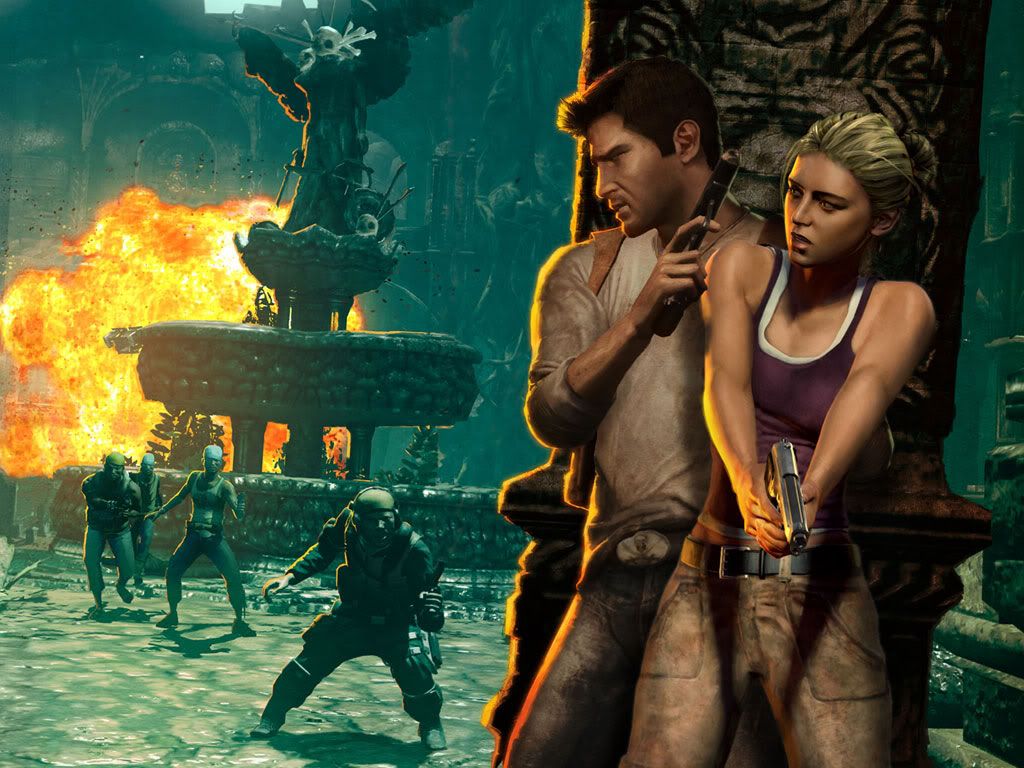 Hot off the heels from Jak and Daxter, Naughty Dog was back with a brand new game that could, potentially, spawn into a new franchise for the company, and retain their status as a developer of "good" games.
From what I've played so far, that's exactly what they've done. The gun-play is
good
, the story is
good
, the set-pieces are gorgeous (a shout-out to Bluepoint here for their excellent job of remastering the title) and Nathan Drake and Elena Fisher are interesting characters, but nothing, as yet, has shouted "this is a Naughty Dog of 2015 standard game".
But, please don't see that as a complaint. The reason why I,
and the people in the 80% of PS4 owners who have never played an Uncharted game
that want to, will be (and are) jumping into the collection is to see where Naughty Dog came from; before they were the stellar truly-triple-A developers of today.
So, I can almost forgive the
good
gun-play and story, and look more at the game as a piece of history that needs to be experienced.
But, really, they shouldn't be ignored.
What really makes the shooting suffer is the sheer amount of time the game dedicates to it. In itself
that
isn't bad. After all, this is a shooter. But, couple that with the formulaic nature of how the shooting element plays out, and you get a fairly tiresome piece of video game.
Every "level" follows this formula almost exactly: you're somewhere on the island. There's nobody around you....I know lets go over there! Three enemies pop-out. Carry on. 5 enemies pop out. Carry on. Climb something...drop down. OH MY GOD THERE ARE 20 ENEMIES HERE, LETS KILL THEM ALL!!!!
I can forgive Drake's Fortune slightly for that though; this is meant to be the video game version of an action movie, and that
does
require a whole lot of violence; but I do really wish that Naughty Dog had changed things up once in a while and maybe add some spice to an otherwise rather bland game.
Other than that, this is a game that - refreshingly - doesn't take itself too seriously, has two awesome main characters and a story that you can't help but want to find out more about. Whether you have or haven't played Uncharted before, this is one to pick up and have fun with for a weekend.