Among Thieves Is My Favourite Uncharted So Far - Uncharted 2 Review
This review contains spoilers for Uncharted 2.
As I sit here, looking at my notes for Uncharted 2: Among Thieves, I can see more plus points than for any game I've ever reviewed, save perhaps Naughty Dog's most recent title: The Last Of Us. While my back catalogue of reviews may not be one that stretches miles into the sky, I think that's an impressive feat, and testament to just how incredible this game is, made even more so by the fantastic – and utterly beautiful – remaster on PS4.
I recall being instructed on writing fiction once, being told to not play it safe, and jump straight into the action with something bold that kicks things off in a truly unforgettable way. With its breath-taking train sequence, Uncharted 2's opener certainly subscribes to this mentality, and really shows how far the set pieces have come since the first instalment in the franchise, where each seemed to rely heavily on physical bad-guys, rather than the environment as an enemy. Here you – as our ever heroic protagonist Nathan Drake – are tasked with traversing a recently crashed train (there is more context for it in the game...) While the huge set-piece-fights aren't completely gone after Drake's Fortune (far from it in fact), variation in them is certainly very welcome, and solves one of my main problems with Nate's previous adventure in the series.
However, something Naughty Dog didn't fully fix after their first foray into the Uncharted universe, and something that often detracts from the overall enjoyment of the game is the camera, which still feels a little dodgey and results in some awkward platforming. It's neither a constant or huge issue, but one that definitely spoils the otherwise very deep immersion of the rest of the experience.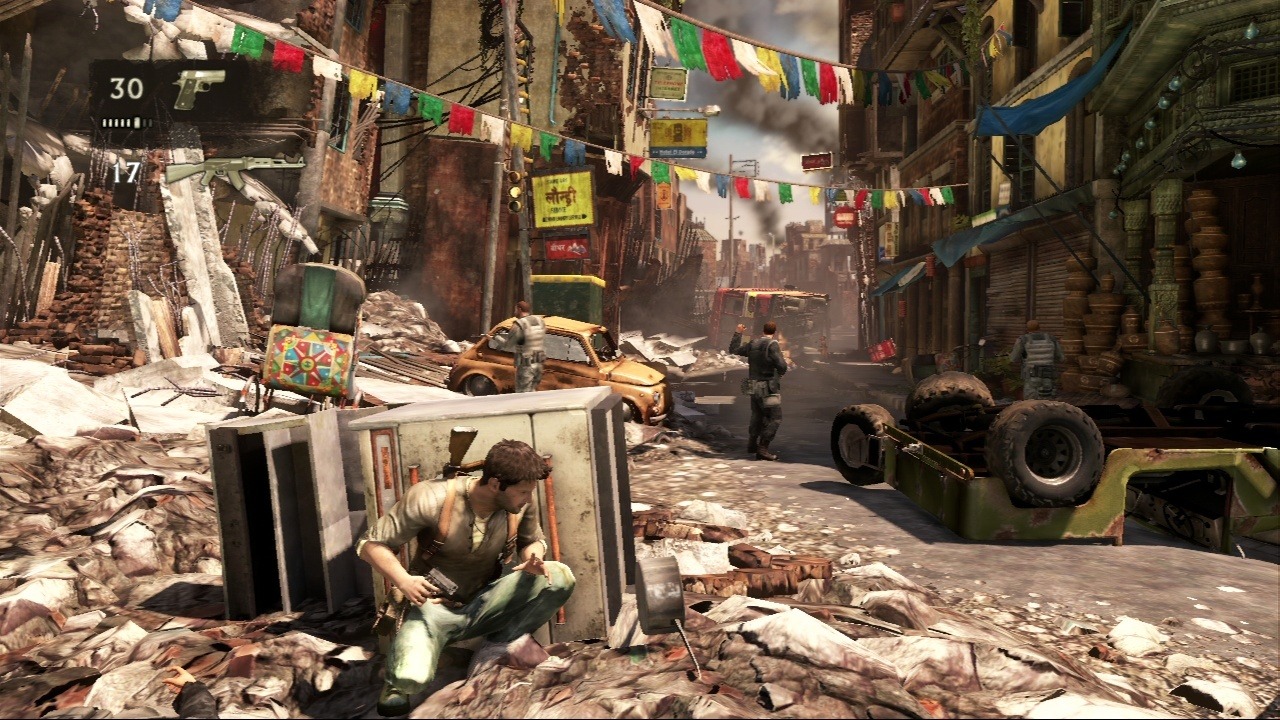 And that experience really is superb; take the gunplay, for example. As I mentioned earlier, my biggest criticism of the first game was that there were too many "shoot all these bad guy moments", which would be fine if said gunplay was more fun to carry out as Drake. Not only are these sequences used more sparingly, but the moment-to-moment combat has been improved upon immeasurably – it feels faster, more fluid and is, ultimately, more rewarding and a whole lot more fun.
While Uncharted's action-movie-esque tone – I hope – will never be lost, and certainly isn't here, I felt the story in the first game was lacking some depth and polishing as the focus was on the aforementioned action. Nate's second adventure certainly improves on that, with a story that seems much more relevant and "real", with much less emphasis on the mythical side of the universe, which was very welcome to see. In fact, one of the only mythical elements – a group of Yeti-like monsters - is later revealed as just being dudes in suits.
Bad guys are – in fact – something that the whole of Uncharted 2 does incredibly well. The main antagonist of the game – Lazarevic – is genuinely one of the most menacing characters I've ever seen in a video game. There's a series of videos about the making of Among Thieves on YouTube, and in one Nolan North – who plays Nate – comments on that, saying he felt incredibly intimidated just acting opposite Graham McTavish.
Of course, the acting from both the returning cast and brand new contributors is truly top notch – frankly I would expect nothing less. In fact, the new cast bring to life some excellent other new characters – Chloe Frazer for example, Nate's fellow thief and one-time-flame, who is awesome and a very welcome addition to the roster (and also appears in Uncharted 3).
Not only does the story have much more "relevance", but it's also incredibly enjoyable to be a part of. Watching as we jump around the globe with the characters to beautiful locations is brilliant, seeing the relationship progress between Nate and Elena is fantastic, and watching the awesome banter between the characters is – as ever – a highlight of the game.
However, the ending of the game is something of a double-edged-sword for me. On one hand I love the final moment, as the camera pans away, leaving our two main characters looking over a beautiful vista: happy. But, on the other, the final boss battle with Lazarevic – who, as I mentioned before, I thought was generally a fantastic villain – was ridiculous, and a huge let down. It sees you trying to out run, and gradually whittle-down-in-health this otherwise really intimidating guy, as he's reduced to a mad-man and Nate's reduced to the underdog. Although, seeing Shambala collapse around you is another awesome set piece. That, paired with the train sequence at the beginning, ensure that the whole thing is bookended by crazy, awe-inspiring scenes which are very reminiscent of something like Indiana Jones.
A somewhat weird ending for an otherwise brilliant game, that strikes an excellent balance between easy and hard and showcases some incredible characters, places, puzzles, weapons and moments. And, for me, this is the definitive Uncharted game. It does everything it's supposed to do so well, blends action, casual humour, and a really meaningful and interesting story about deception into 10-12 hours of top-notch gameplay. If you're in need of a sit-down and play, don't-want-to-think-too-hard experience, it doesn't get much better than Uncharted 2.
A copy of Uncharted: The Nathan Drake Collection was purchased in order to review the remastered Uncharted 2: Among Thieves.